Sławomir Łodziński, Ph.D. / Associate Professor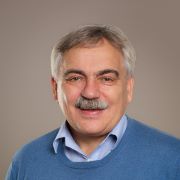 profesor uczelni
Department of Social Anthropology and Ethnic and Migration Studies
Contact
s.lodzinski@uw.edu.pl
Pokój: 301
Scientific activity
2006 – Habilitation, Faculty of Philosophy and Sociology, University of Warsaw
1994 – Ph.D., Faculty of Philosophy and Sociology, University of Warsaw
1982 – Master's degree, Institute of Sociology, University of Warsaw
Scientific interests
Migrations, protection of rights of national and ethnic minorities in Poland, state policies towards minorities and foreigners (immigration), sociology of ethnicity, multiculturalism.
Selected publications
2017: Logika konsekwencji czy stosowności? Dylematy władz lokalnych w procesach instytucjonalizacji praw językowych osób należących do mniejszości narodowych w Polsce, "Studia Polityczne" 45 (2), s. 101–136.
2017 (współaut. M. Szonert): "Niepolityczna polityka". Kształtowanie się polityki migracyjnej w Polsce w latach 1989–2016, "Studia Migracyjne – Przegląd Polonijny" 43 (2), s. 39–66.
2016 (red., współred. S. Rudnicki): Особистісне зростання: теорія і практика, Житомир: Вид-во ЖДУ імені Івана Франка.
2016: Etniczne "flagowania" rzeczywistości. Problemy wprowadzania dodatkowych nazw miejscowości w językach mniejszości w Polsce. "Pogranicze. Studia społeczne" 27 (1), s. 223–250.
2016: Ekspertyza dotycząca oceny działalności sprawozdań pełnomocników wojewodów do spraw mniejszości narodowych i etnicznych za 2014 rok, "Przegląd Narodowościowy – Review of Nationalities" 5 (1), s. 259–270.