Andrzej Waśkiewicz, Ph.D. / Associate Professor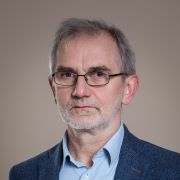 Scientific activity
2009 – Habilitation, Faculty of Philosophy and Sociology, University of Warsaw
1997 – Ph.D., Faculty of Philosophy and Sociology, University of Warsaw
1990 – Master's degree, Institute of Sociology, University of Warsaw
1989 – Master's degree, Institute of History, University of Warsaw
Scientific interests
History of social and political ideas, contemporary political philosophy.
Selected publications
A. Waśkiewicz, The Idea of Political Representation and Its Paradoxes, Peter Lang 2020.
A. Waśkiewicz, Ludzie-rzeczy-ludzie. O porządkach społecznych, w których rzeczy łączą, a nie dzielą, Universitas 2020.
A. Waśkiewicz, Strangers by Choice: An Asocial Philosophy of Life, Peter Lang 2015.
A. Waśkiewicz, Paradoksy idei reprezentacji politycznej, Scholar 2012.
A. Waśkiewicz, Obcy z wyboru. Studium filozofii aspołecznej, Prószyński i S-ka 2008.
A. Waśkiewicz, Polityka dla dorosłych. Eseje, Scholar 2006.
A. Waśkiewicz, Interpretacja teorii politycznej. Spór o metodę we współczesnej literaturze anglosaskiej, Scholar 1998.
Projects
Completed projects