Renata Włoch, Ph.D./ Associate Professor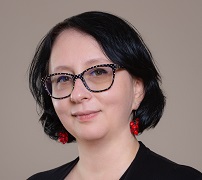 profesor uczelni
Department of Digital Sociology
Contact
r.wloch@uw.edu.pl
Pokój: 313
Scientific activity
2020 – Associate Professor
2017 – Habilitation, Faculty of Philosophy and Sociology, University of Warsaw
2008 – PhD, Faculty of Philosophy and Sociology, University of Warsaw
2004 – Master's degree, Institute of Sociology, University of Warsaw
Scientific interests
My first field of study was International Relations – for some time, I focused on nuclear security and international theory. Sociology is my second love, to which I am generally faithful, although I also embrace economics and political science in my academic pursuits. Without any guilty conscience, but with great joy, I jump between research fields, juggle theories, and experiment with various research methods. I enjoy working with businesses and public institutions. Currently, my research interests revolve around the issues of digital globalization, which I intend to dedicate my next book to.
Since 2014, I have been involved in co-creating the Digital Economy Lab (https://www.delab.uw.edu.pl/), an interdisciplinary unit dedicated to researching the digital society and economy.
Unfortunately, I compulsively read anything that comes my way on my e-reader.
Selected publications
R. Włoch, K. Śledziewska, The Economics of Digital Transformation: The Disruption of Markets, Production, Consumption and Work, Routledge 2021.
R. Włoch, K. Śledziewska, Gospodarka cyfrowa. Jak nowe technologie zmieniają świat, Wydawnictwo UW 2020.
R. Włoch, Two dynamics of globalization in the context of a sports mega-event: the case of UEFA EURO 2012 in Poland, "Globalizations" 2020, t. 17, nr 1, s. 45-49. https://www.tandfonline.com/doi/full/10.1080/14747731.2019.1603808?fbclid=IwAR1pwJj4993AeLbfo2-lu8o1ICxHYhBpkNFnADJSp-7j6-US7oF8Lw98NF
R. Włoch, K. Śledziewska, Should We Treat Big Data as a Public Good? [w:] The Responsibilities of Online Service Providers, red. M. Taddeo, L.  Floridi, Springer 2017, s. 263-274.
R. Włoch, Globalne przez narodowe. Euro 2012 w Polsce, DELab UW 2016.
R. Włoch, (Nie)bezpieczne związki między socjologią a stosunkami międzynarodowymi, w: Stosunki międzynarodowe – wokół zagadnień teoretycznych, red. K. Kącka, Wydawnictwo UMK, Toruń 2015.
R. Włoch, UEFA As a New Agent of Global Governance: A Case Study of Relations Between UEFA and the Polish Government Against the Background of the UEFA EURO 2012, "Journal of Sport and Social Studies" 2013.
R. Włoch, Polityka integracji muzułmanów we Francji i Wielkiej Brytanii, Wydawnictwa Uniwersytetu Warszawskiego 2011.
R. Włoch, Nowa era nuklearna, Wydawnictwo Adam Marszałek 2004.