prof. dr hab. Ireneusz Krzemiński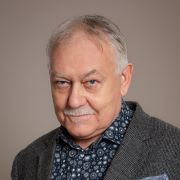 Scientific activity
2013 – profesor nauk humanistycznych
1993 – habilitacja, Wydział Filozofii i Socjologii UW
1980 – doktor, Wydział Filozofii i Socjologii UW
1972 – magister, Instytut Socjologii UW
Scientific interests
antysemityzm, stereotypy narodowe; metodologia badań społecznych; socjologia humanistyczna; socjologia zmiany społecznej; społeczna i moralna problematyka HIV/AIDS
Selected publications
2017: Narodowo-katolicka mowa o Polsce. Obrońcy krzyża przed Pałacem Prezydenckim, "Czas Kultury" 33 (4), s. 50–64.
2017 (red.): Pamięć o wielkiej zmianie. Solidarność Rolników Indywidualnych a polska transformacja, Warszawa: Scholar.
2017: Radio Maryja and Fr. Rydzyk as a Creator of the National-Catholic Ideology, [W:] S. Ramet, I. Borowik (red.), Religion, Politics, and Values in Poland. Continuity and Change Since 1989 (s. 85–112), New York: Palgrave Macmillan.
2016: Does "Polish Antisemitism" Exist? Research in Poland and Ukraine, 1992 and 2002, [W:] N. Aleksiun, B. Horowitz, A. Polonsky (red.), Writing Jewish History in Eastern Europe, Liverpool University Press.
2016: Solidarność – doświadczenie i pamięć po raz drugi, Gdańsk: Europejskie Centrum Solidarności.
2015: Have Only Jews Suffered? Holocaust Remembrance and Polish National Resentment, "Polish Sociological Review" 55 (2), s. 207–221.
2013: Solidarność. Niespełniony projekt polskiej demokracji, Gdańsk: Europejskie Centrum Solidarności.