prof. dr hab. Mirosława Grabowska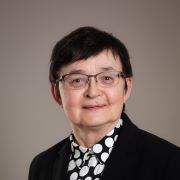 Scientific activity
2020 – profesor nauk społecznych
2005 – habilitacja, Wydział Filozofii i Socjologii UW
1982 – doktor, Wydział Filozofii i Socjologii UW
1972 – magister, Instytut Socjologii UW
Scientific interests
partie polityczne, religijność, stosunki państwo–Kościół, teorie demokracji
Selected publications
2017: Religiosity, the Catholic Church, and Politics in Poland, W: S. Ramet, I. Borowik (eds.), Religion, Politics, and Values in Poland: Continuity and Change Since 1989 (s. 257–288), Palgrave Macmillan.
2015: O Jakubie Karpińskim prywatnie i publicznie, "Stan Rzeczy" 5 (2), 245–247.
2015: Teoria sekularyzacji – do ponownego przemyślenia, W: M. Lewicki, S. Mandes, A. Przybylska, M. Sikorska, C. Trutkowski (red.), Socjologia uspołecznienia. Księga dedykowana Profesor Mirosławie Marody (s. 94–111), Warszawa: Scholar.
2012: (red.) Metoda i znaczenie. Problematyka rozumienia w badaniach sondażowych, Warszawa: Centrum Badania Opinii Społecznej.
Other
Dyrektor Centrum Badania Opinii Społecznej